Exhibition opening by Silviya Georgieva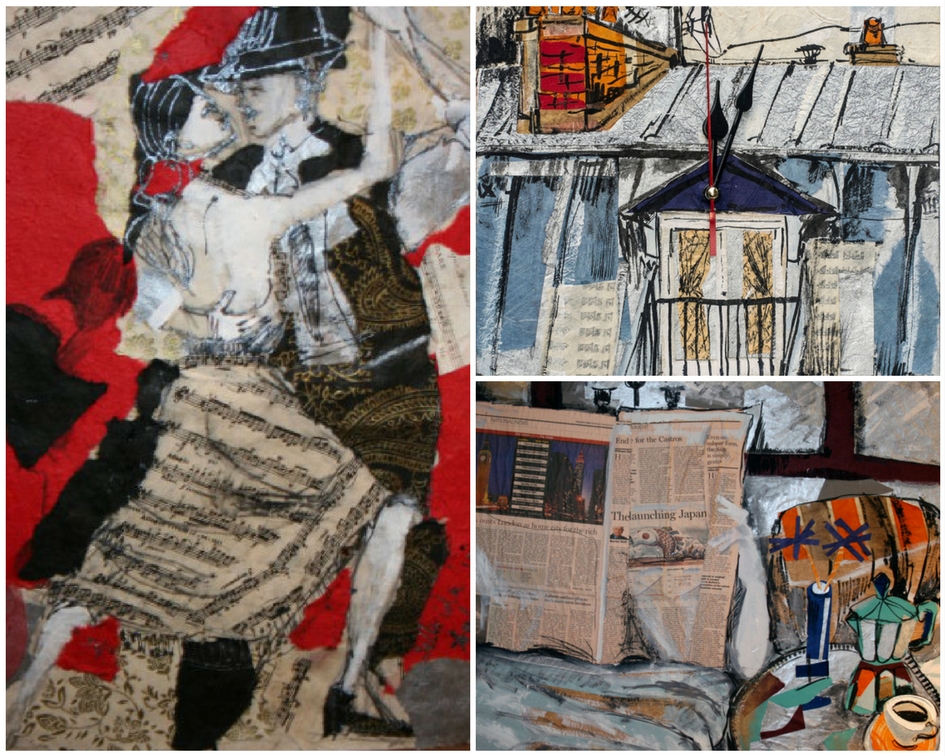 23.02.2018; 19:00; Sofia Gallery
BCI London cordially invites you to the Exhibition opening by Silviya Georgieva and discussion with the author over a glass of wine.
Special guest: Silviya Georgieva
A multi-talented and expressive artist, Silviya Georgieva – Sellvida, brings her rich cultural and practical experience to the London art scene.Silviya was trained and educated in Sofia, Bulgaria where she mastered textile and graphic design at the country's most prominent art and design universities. An artist himself, Silviya's father nurtured her artistic side from an early age and raised her in a highly creative and inquisitive environment.
Silviya's passion lays in making collages – piecing together memories and extracts of her experiences on a canvas of colours, textures and shapes. Silviya collects mental and visual excerpts that she then puts together in a puzzle that reflects her perception of the world. Silviya views our beloved city through her positive and curious eyes – the power stations of Battersea, sunset in Fulham, a stranger's demeanour.
Silviya is equally intrigued by the man-made and the natural – from seascapes to still life settings and Parisian rooftops, her pieces are guaranteed to leave a lasting impression with the viewer.
In 2017 she was one of the finalists in this International Art Contest for contemporary Art- ArtMaze Magazine August 2017.
In 2016 she was selected for very interesting Art Project in the famous old bank building in Baton Rouge, USA. One of her paintings the  lovely collage called "BOLERO" reproductions was installed in the new Watermark Baton Rouge Hotel, a Marriott Autograph Collection hotel. In the guests rooms and corridors.
EXHIBITIONS:
In 2017 26 Oct – 30 Oct "Chelsea Artists Society" Annual Exhibition in Chelsea Old Town Hall, London, UK
In 2011- still I'm took a part of SOFAP every Spring/Autumn Exhibition at The Fulham Library in London, UK
In 2012-2013 Part of ACE BRIDGE CLUB Group Exhibition, Fulham
In 2013-2014 Part of Portobello Group Exhibition, Notting Hill
Part of Hammersmith&Fulham Art fest 2014-2017
2014 Summer Group Exhibition in Royal Brompton Hospital , Chelsea, London
2014-2015 Group Exhibition, 65 Studio Shine Lane, London
Yearly Exhibitions:
In 2000 she took part in Arts exhibition in the town of Nessebar;
In 2003 she participated in an international Arts Christian exhibition in the city of Vishegrad, Hungary with tar-made installation under the title "Reflection and Development" ;
In 2004 she took part in National General Exhibition painting and engraving in "Bovijel Gallery", Plovdiv, in National Exhibition of applied arts in Boviel Gallery, Plovdiv, and in an International Specialized Exhibition "BALCAN PAC", Sofia.
In 2006 she participated in General Exhibition "Interiordesign" – /Form follow Emotions/, National Exhibition Centre, Shipka 6 str., Sofia.
In 2006 she participated in Tenth jubilee Crafts Fair in city Varna
Theme: "Reflection & Progress" – Installation of resin with combination with three lamps of exquisitely painted paper.
In September 2007, held a joint exhibition in London / "Sofia" Gallery on the Bulgarian embassy / England with Petya and Stefan Georgiev motto "Juxtaposition"
In end of 2008 and start 2009 year she make Family Exhibition part 2 "Juxtaposition 2″ with Collages and hand made Lamps.
Art exhibition -Show room" Jessica "- Sofia, Bulgaria
with other artist Petia and Stefan Georgievi.
In 2010 Exhibition "TWO FACES" with another painter Kaia Kalacheva in "DA DA CULTURAL BAR " Sellvida presented Light Collage and more Collage "Tango" Sofia ,Bulgaria
In 2011 Member of Society of Fulham Artists and Potters (SOFAP)