Workshop 'We are all made of stars'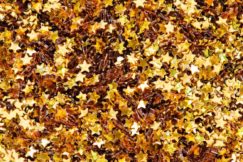 16 February (Saturday), 11am-4pm, 'Sofia' gallery
Due to technical reasons the event is postponed. 
The Bulgarian Cultural Institute London announces that on 16 February will be held the educational workshop called 'We are all made of stars'. In the workshop children will turn into artists and become part of the international project by Polina Angelova 'Please don't forget'.
The event is part of a series of three workshops which will take place in London, Sofia, and Tel Aviv and are a key component of 'Please don't forget'. This is a travelling exhibition and initiative which will be presented in Bulgaria, the UK, and Israel in 2020, marking 77 years since the rescue of almost 50 000 bulgarian Jews during Second World War. Parts of the exhibition are a film and an art installation under the name 'We are all made of stars'. Through the workshops, in which participating children will use stars in their artwork, will be made the final art installation. The star is a vital element in the project and a symbol of identity, belonging, time, and memory. The workshops will be documented in a video which will remain as a tool to support future cultural co-operation between the countries.