CANCELLED! Vocal Ensemble Peregrina EnChantica – 5th Anniversary Celebration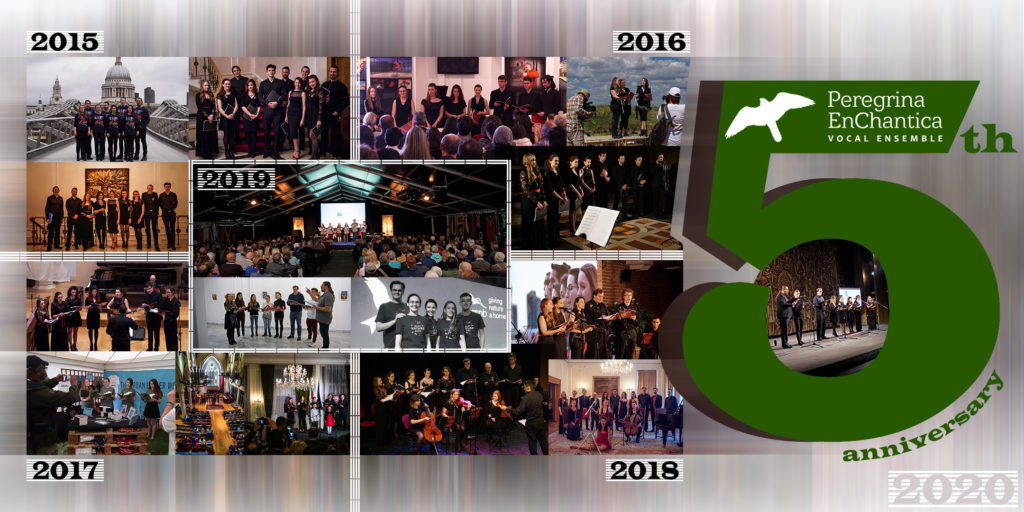 Dear friends,
We would like to inform you that the event "Vocal Ensemble Peregrina EnChantica – 5th Anniversary Celebration" on March 19th has to be cancelled due to the growing epidemic, caused by COVID-19.
Under the provisions of the Foreign Office due to precautionary measures concerning the epidemic, caused by COVID-19, the holding of big events and the gathering of many people in one place is prohibited in the buildings of the Bulgarian Embassy and Bulgarian Cultural Institute London from 09.03.2020 until second order.
We are sorry for the inconvenience caused.
—————
Registration for the event HERE
Vocal ensemble Peregrina EnChantica would like to invite you to a special evening in celebration of their 5th anniversary, at Gallery Sofia of the Bulgarian Cultural Institute London, on 19th March, at 7:00 pm
The informal reception-style evening will include music, food and drinks, as well as a few little surprises. Peregrina EnChantica will sing a selection of their favourite pieces and share their vision for the future of the ensemble. It's sure to be an exciting gathering with good conversation and inspiring music, and we look forward to seeing you there!
———————
Peregrina EnChantica (http://peregrina.zoryburner.com) is a London-based vocal ensemble, named after the Peregrine falcon, aiming to 'enchant' audiences with performances of fully original music by its founder, composer Zory Burner.
The ensemble presents two types of repertoire:
– A musical progression of authentic Pre-Renaissance Byzantine chants (14th c.), their derivatives by classical composers of 18th -20th c., and Zory Burner's original arrangements. Peregrina EnChantica is one of the first choirs in the UK to specialize in concert performances of this unique genre, aiming to shine a bright light on this thousand-year-old musical phenomenon.
– A compelling fusion of musical genres in Zory Burner's original song-cycle, dedicated and inspired by nature, in support of wildlife conservation and with a special focus on birds.
Within the development of this ongoing project, the ensemble has built an impressive track record in very short time: forming a partnership with David Lindo (The Urban Birder – naturalist, writer, broadcaster), in early 2015, the ensemble contributed to UK's National Bird Vote, through their first single – "Sub Dio" ("Under The Open Sky"), by filming a music video and turning it into an anthem of the campaign. The song was published by InkStain Press, US, and presented on Amazing Radio.
Zory ran a tremendously successful concert series 2015/16, featuring performances at multiple national and international festivals, among which the Southbank Centre's Chorus Festival, the International Youth Festival of Arts, "The Muses" at Sozopol, Bulgaria, where the ensemble was awarded first place in four categories and the Brandenburg choral festival of London.
Forming further partnerships, Peregrina EnChantica serenaded birding enthusiasts and experts alike with "Forgotten Names" – a special dedication to the highly endangered species of birds. The song was presented in support of RSPB's Skydancer & Hen Harrier Life projects, on Hen Harrier Day 2016 and 2017, organized by BAWC at Rainham Marshes Nature Reserve and at Birdfair festival 2017 – the "Birders' Glastonbury", at Rutland Water Nature Reserve.
In August 2017 the project was awarded with a grant by Arts Council England, Zory completed her eleven-part nature-themed song-cycle and organised a new "Look Up" lecture-concert series 2017/2018, featuring thought-provoking talks by prominent guest speakers from the wildlife conservation world: Dr Mark Avery, Dr Debbie Pain, David Lindo, Charlie Moores and young conservationist Findlay Wilde.
Peregrina EnChantica has also developed a collaboration with the Lush company, through their common interest and passion for conservation, the ensemble was featured in an interview on Lush Radio and for an article on making a difference through music, and part of Zory Burner's original song-cycle was exclusively presented at Lush's Global Media Studio in Soho, in August 2018.
In 2019 Zory Burner received a grant by the PRS Foundation to run the ensemble's third edition concert series, feat. performances at the Natural History Museum and the QEII Centre in Westminster, London, among other special events. She also received a grant from the National Culture Fund of Bulgaria to take part at the Tarnovo Festival of Arts, in mid December 2019.