Presentation of the new luxury edition of the film "England, My England" and discussion with the special guests Tony Palmer and Stefan Kitanov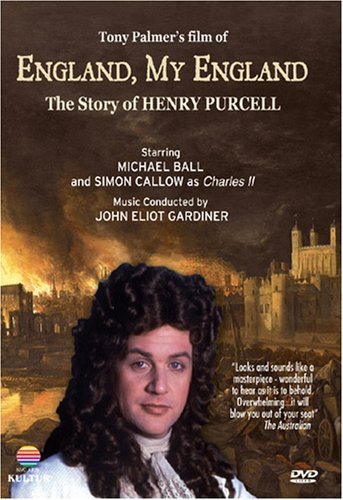 Free registration for the event HERE
Bulgarian Cultural Institute London cordially invites you to the event "Presentation of the new luxury edition of the film "England, My England" and discussion with the special guests Tony Palmer and Stefan Kitanov", on the 29th of April 2020, at 7 PM, at the Halls of the Bulgarian Embassy. "England, My England" was the first co-production between a Bulgarian company and a UK TV company.
England, My England UK, 1995, 153 min, color
Director: Tony Palmer Script: John Osborne, Charles Wood Camera: Nicholas D. Knowland Music: Henry Purcell Cast: Simon Callow, Michael Ball, Rebecca Front, Lucy Speed, Letitia Dean, Nina Young Producer: Mike Bluett Assosiate producers: Stefan Kitanov, Radoslav Spassov
"Henry Purcell is a complete mystery. We know where he's buried (next to Vaughan Williams in Westminster Abbey), but that's about it. We don't even know who paid for his memorial stone in the Abbey. No-one knows for sure where he was born or even precisely when he was born. We don't know who his father was nor the name of his mother. He lived exactly the same number of years as Mozart – just thirty-six – but we only know in detail what he did for three of those years. Page after page of the manuscripts of some of his master-works are completely blank. Purcell was – and is – a mystery, except that we know he wrote over a thousand works, at least one for every working week of his life.
How then to make a film about such a mysterious, almost non-existent, 'person' whose glorious music remains our principal source of 'information'?  John Osborne came up with a brilliant solution, namely to parallel the reign of Charles II (1660 – 1685), the period in which Purcell had flourished, with the 'reign' of The Royal Court Theatre (1956 – 1979) in which Osborne had flourished. Osborne believed there were many such parallels. England in the 1660s and 1670s was preoccupied with freedom of speech, economic expansion, treaties with Europe, the collapse of conventional morality, the increase of violent crime, unemployment and the futility (and wastefulness) of war. So was England in the 1960s and 70s. And after the economic boom of the 1980s came the economic bust, just as had happened in the 1680s. This allowed Osborne to deliver one final withering commentary on what he saw as the shenanigans of contemporary British society under the guise of describing the shenanigans of the Restoration period and its court composer, Henry Purcell. "
 "In England today we have become encircled by a Cromwellian army of prigs, knighthood seekers, slobbering bankers and greasy delayers of the law."
 "To be a socialist today is like being in the priesthood in a world without God, prattling ceaselessly about a 'classless society' to a middle class it dare not defy".
"Everyone demands answers, like happiness, as a right. How hopeless, how ironic".
TONY PALMER
Tony Palmer is one of the leading directors of music documentaries and historical drama films in the world. His filmography of over one hundred films ranges from early works with The Beatles, Cream, Jimi Hendrix and Frank Zappa, to the famous portraits with and about Walton, Britten, Stravinsky, Maria Callas, John Osborne, Margot Fonteyn and Menuhin. His 7 hour 45 minutes film on Wagner, starring Richard Burton, Laurence Olivier and Vanessa Redgrave, was described by the Los Angeles Times as "one of the most beautiful films ever made". Among over 40 international prizes for his work are 12 Gold Medals at the New York Film & Television Festival, as well as numerous BAFTA (British Academy of Film & Television) and EMMY nominations and awards. He is the only person to have won the Prix Italia twice. Tony Palmer was awarded the Sofia Municipality award for outstanding achievements in world cinema in 2010.
STEFAN KITANOV
Producer, festival director, distributor, exhibitor
From 1992 through 1999, he was director and programmer of the Cinema House, the leading art house cinema in Bulgaria. In 1997 he founded Sofia International Film Festival, considered as the most important film festival in Bulgaria and one of the key film events in Central and Eastern Europe, accredited by FIAPF.
Since 1995 with both production companies he founded – RFF International and Art Fest – he has produced and co-produced more than 20 films which received national and international recognition most acclaimed of which is 'The World Is Big and Salvation Lurks around the Corner' (2008) by Stephan Komandarev (shortlisted for Foreign Language Oscar, 30 international awards, released and broadcasted in more than 100 countries). Recent projects include films by Nuri Bilge Ceylan ('The Wild Pear Tree'), Jessica Woodworth and Peter Brosens ('King of the Belgians' and 'Barefoot Emperor'), Nadejda Koseva ('Irina'), Levan Koguashvili ('Brighton 4th'), Dusan Milic ('Darkling').
Over the last 15 years Kitanov has released theatrically in Bulgaria over 100 European films by directors as Wim Wenders, Michael Haneke, Nuri Bilge Ceylan, Lars von Trier, Aki Kaurismaki, Terry Gilliam, Dardenne Brothers, Danis Tanovic, Francois Ozon, Fatih Akin, Ken Loach, Andrej Zviagintzev, Cristian Mungiu, Dusan Milic, Radivoje Andric, among others.
Kitanov was Bulgarian representative in the Board of management of Eurimages, 1997-2000. He was a member of juries in Venice, Cannes, Karlovy Vary, Moscow, Cluj, Wiesbaden, Thessaloniki, Yerevan, Komarom, Torun, European Parliament, EFA. He is a member of the European Film Academy.