Literary Evening with Johan Devletyan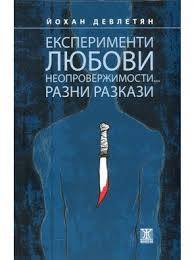 A literary evening with the new book by Johan Devletyan at Sofia Gallery, London.
'Experiments, Loves, Undeniability,……. Various Stories' extracts read in Bulgarian and English languages at 7pm on 26th May 2017.
Book your tickets HERE
Special guest : Johan Devletian
The literary readings performed by professional actresses Desi Pashova and Rene Hall will be accompanied by performance of violinist Hristo Dunev with piano accompaniment. The readings will be followed by a discussion with the author and a complementary glass of wine.
The short stories of Johan Devletyan's new book are alike to the stories in his previous book 'A Man and a Half' being talentedly written and moving; yet different as in his new book, beside his realistic narratives the author thrills us with fantastic motives. The best about 'Experiments, Loves, Undeniability,…… Various Stories' collection is that Johan Devletyan not simply experiments with technics, but he does it with love; hence, the undeniable result – it's a work of art.
Born in 1958 in Plovdiv, Johann Deletyan reads Bulgarian Philology. His short experience as a lecturer is followed by 32 years of work as administrator of the cultural structures with the last 17 of them as a Director of the Culture Directorate of Plovdiv Municipality.
Currently he is a Public Relations Expert at Ivan Vazov National Library, Plovdiv and publishes short stories and journalistic materials in the periodical press. Author of radio-plays for the National Radio, he is the winner of a prize in a national competition.
In 2015, his first short stories collection "A Man and a Half"  is published and nominated for the "Plovdiv" Prize for Culture and Art , section "Art Literature". 'Experiments, Loves, Undeniability, Various Stories' is published November, 2016.