Exhibition Opening: Aglika Gaytanikova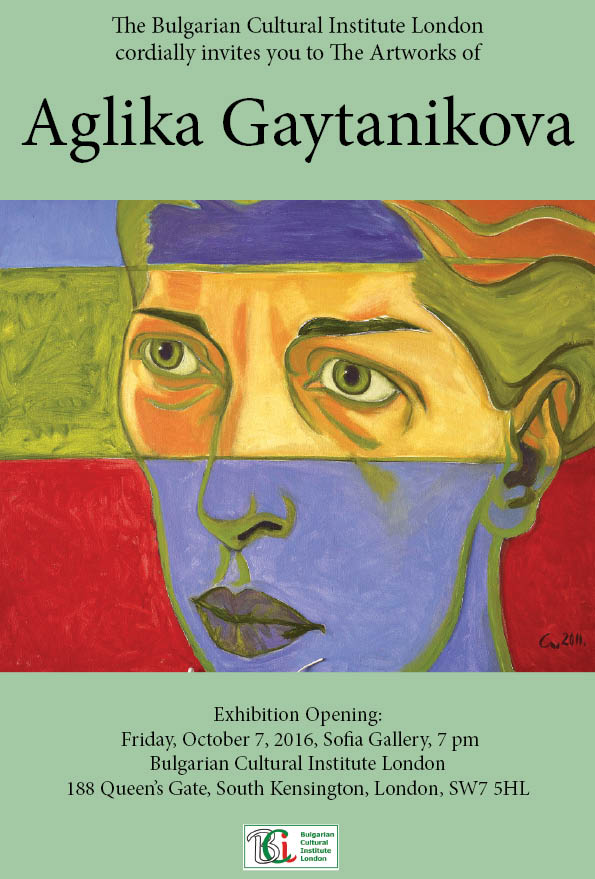 Sofia Gallery, 7 pm
BOOK HERE
The Bulgarian Cultural Institute London presents an exhibition of paintings by the Bulgarian artist Aglika Gaytanikova.
Special Guest: Aglika Gaytanikova
?glika Gaytanikova
Born 21.11.1968 in Sofia
1987-graduates High School of fine arts in Sofia
1995-Master degree in Mural painting in the Academy of fine arts, Sofia
Works in the field of oil painting, ikons and mural painting
2008-Murals and Ikons in a Chapelle in Koprivstitsa
2013- Murals and Ikons in a Chapelle "Holly Trinity" in Rasgrad
Symposiums:
1998 – Vidin-Belgrad
1998 – Gamsigrad, Serbia
2001 – Racha, Serbia
2004 – Ohrid
2011 – Ohrid
2013 – Dimitrovgrad
2014 – Sosopol
2015 – Sosopol
2016 – Mukteshwar, India
2014 – Cite des Arts – Paris
2015 – Exhibition in Budapest, Hungary
2015 – Exhibition in Paris, Bulgarian cultural institute
2016 – Residence in New London, Connecticut, USA
2016 – Exhibition in London, Bulgarian cultural institute
2015 – Biennale of Aquarelle, Delhi
2016 – Residence in Griffis Art Center New London, USA
Aglika Gaytanikova is not only an artist with a her own creative individuality, but also a painter with powerful creative capabilities.
Having completed her artistic education in the class of mural painting of Prof. Dimo Zaimov, in the Academy of Fine Arts in Sofia. This class has enjoyed very high standing for decades – its graduates are not only precise painters, but are also able, with an acute measure of balance, to organize individual elements of the composition and to achieve tonal unity.
The artist has managed to transform the ornamental character into an artistic motif that has its own life in the plastic tissue of the composition. This motif is not delineated flat on the canvas but rather concentrates in itself energy forces that make up one very tense dynamic rhythm. Its direct impact expresses visually the sense of spatial depth penetration through the intervention of one or more concentric circles. Different in density silhouettes, in shape and color, they "acquire" the two-dimensional plane of the pictorial surface to impress upon us the presence of a third dimension in a composition that looks decorative. Thus our young author proclaims her personal victory as a painter above the decorator and creates a space without boundaries. This suggests a promising start, which is about to recreat its capabilities.
prof. Maximilian Kirov
"ART" Magazine