"Directions", the newest film by Stephan Komandarev, in London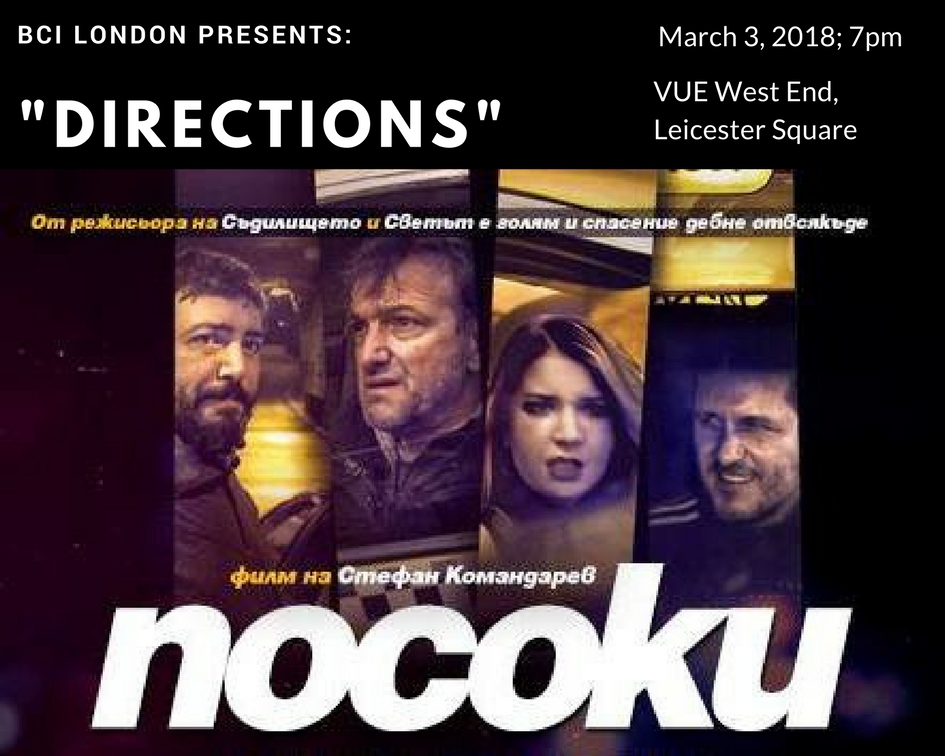 Free event registration HERE
March 3, 2018; 7 pm
VUE West End, Leicester Square
The Bulgarian Cultural Institute London
and
The Embassy of the Republic of Bulgaria London
PRESENT:
By the director of the films "The World Is Big and Salvation Lurks Around the Corner" and "The Judgment"
Film by Stephan Komandarev
"DIRECTIONS"
In the newest film by Stephan Komandarev, which is the winner of over 15 awards at international festivals and was nominated at the Film Festival in Cannes 2017, you will be able to see ones of the biggest stars of the Bulgarian cinema: Asen Blatechki, Vassil Vassilev-Zuek, Vasil Banov, Irini Zhambonas, Guerassim Gueorguiev-Gero, Julian Vergov, Stefka Yanorova, and others.
"Directions" is a 2017 Bulgarian feature film directed by Stephan Komandarev. The co-production between Bulgaria, Germany, and Macedonia has made its premiere at the International Film Festival in Cannes, in May 2017.
The plot of the film unfolds within 24-hours when the death of one will give a chance for a new life to another; in six taxis in Sofia the destinies of different people, which are part of the present Bulgarian reality, interweave.
After the screening the fans will have the opportunity to meet the stars of the movie: Asen Blatechki, Vasil Banov, Anna Komandareva, Borislava Stratieva, as well as the director of the film Stephan Komandarev.
"The film "Directions" is what the English call an instant classic."
boojum.fr
"A well-observed portrait of the Bulgarian society – with poignant accuracy and brilliant humour."
Variety