Concert of Hristo Dunev and Dunev Quartet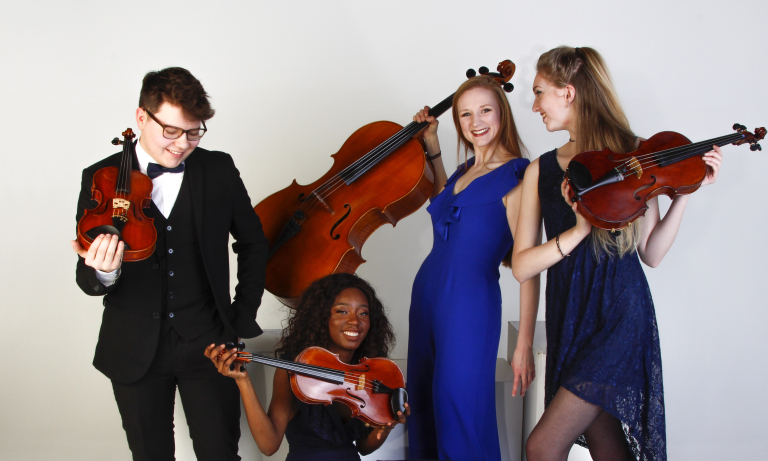 Free registration for the event HERE
The Bulgarian cultural institute London has the pleasure to invite you to the event Concert of Hristo Dunev and Dunev Quartet on the 7-th of March 2020 at 7pm. at Gallery Sofia.
The Dunev Quartet is an exciting and vibrant string quartet formed in 2017 at the Royal Birmingham Conservatoire. As well as performing regularly in West Midlands venues such as the Birmingham Museum and Art Gallery, Central Library, New Alexander Theatre, they have performed in Winchester Cathedral, and taken part in the national Children's Literature Festival 2018, the 2018 Shostakovich String Quartets Festival in Bromsgrove and the chamber festival series at Market Drayton. The four talented musicians in the Dunev Quartet are Hristo Dunev, Mahaliah Edwards, Eleanor Chapman and Alice Cheer. 
Hristo Dunev is a Bulgarian violinist who began playing aged six at the National Music School in Sofia. In 2013 he was awarded a full scholarship at the Whitgift School, and he is now studying. Hristo has performed in masterclasses with professors such as Mincho Minchev, Takachi Shimitsu, Midori Goto, Emil Kamilarov, Kevork Mardzhirosyan, Dina Schneidermann and Svetlin Rusev. Hristo has been awarded many prizes, including First Prize at the Young Virtuoso International Competition, which is where he was awarded Best Performance of a Bulgarian performer. Performing in concert has always been an active part of his life; as a soloist, in orchestras and in many chamber ensembles. Hillsong Church is an important part of Hristo's life as a Christian. Hristo is also an enthusiastic violin teacher and is keen to inspire other young talent.