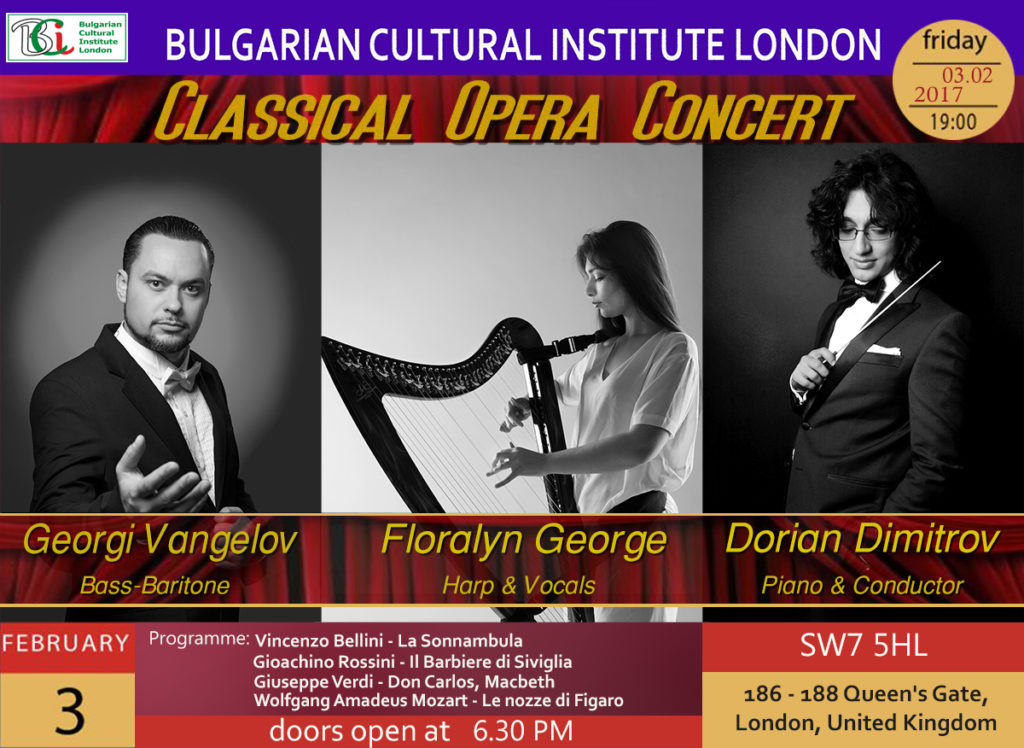 Reserve your tickets HERE
Bulgarian Cultural Institute London welcomes you to a Classical Concert featuring:
Georgi Vangelov – Bass baritone
Dorian Dimitrov – Piano and conductor
Floralyn George – Harp and vocals
Programme
Verdi-Macbeth -Banco – Studia il passo
Rossini – Il Barbiere di Siviglia – Basilio – La Calunnia
Verdi – Don Carlos – King Philip – Ella giammai m'amo
Bellini – La Sonnambula – Count Rodolfo – Vi Ravviso, O Luoghi Ameni
Mozart – Le nozze di Figaro – Count Almaviva – Non più Andrai
Dorian Dimitrov was born in London in 1994, and has appeared in many venues in the United Kingdom and Bulgaria, including Wigmore Hall, Fairfield Halls, Menuhin Hall, Banqueting House (London), Royal Overseas League (Edinburgh) Perthshire, Festival Hall (Bulgaria) as well as multiple times on Bulgarian National Television and Radio. He has also played in many masterclasses to distinguished professors such as Dmitri Ratser, Valeria Szervanszky, Marek Zabrowski etc. Dorian is working towards a career as a conductor. In 2014, he was personally chosen by maestro Kristjan Järvi as an assistant to his orchestra 'Baltic Sea Youth Philharmonic (now Baltic Sea Philharmonic) in Peenemünde, Germany and regularly works with him whenever Kristjan comes to London. Dorian currently studies with Timothy Redmond and Toby Purser and is the principal conductor of the Notting Hill Orchestra for Film Music.
George Vangelov was born in Sofia in 1982. Having graduated both the National Music School 'Lyubomir Pipkov' (2002) and Pancho Vladigerov Music Academy (2010) with honors, studying operatic singing (Bass-Baritone) with Professor Jasmina Kostova throughout the duration of his education.He continues to work with vocal pedagogues Professor Reni Brambarova and Professor  Assen Selimski. He has participated in many competitions in Bulgaria and abroad.Repertoire of George is mostly symbolic arias for bass  baritone, as it mixes  from comic buffo opera and drama  peer music opera composers.
Works by composers : Modest Mussorgsky, Giuseppe Verdi, Wolfgang Amadeus Mozart, Giacomo Rossini, Мihail Glinka Vincenzo Belini and many other.
Tsvetelina Georgieva a.k.a. Floralyn George was born on 27 January 1996 to a family of musicians. She graduated the National School of Music in Sofia and garnered many professional qualifications and certificates from masterclasses for harp and classical singing. Floralyn took a part in Ryan Leslie's film/concert "From Sofia with Love", filmed and performed in Sofia Opera and Ballet. In 2016, she was one of twelve harpists chosen from all over the world to take part in a masterclass in Wales with two of the biggest names in the international harp society, Catrin Finch, and baroness Ellinor Bennet. She performs in many different popular styles such as R&B, pop-rock, Indie, trip-hop and others. At the moment she is based in the United Kingdom and she is working on her original music.
Sofia Gallery
Friday, 3rd February 7:00 p.m.